Welcoming you to your new health team!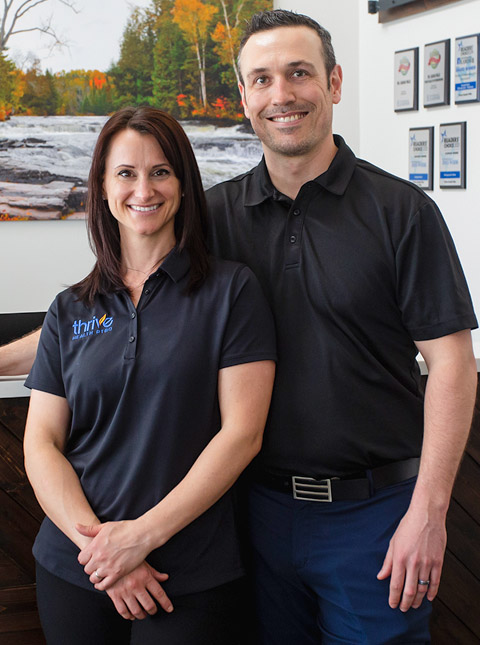 Hi there!
We are Brad and Sarah Wild, the co-owners of Thrive Health Ptbo.  This venture has been in our thoughts, dreams and many conversations over our years together and we absolutely love our work and our team at Thrive.
We met in Chiropractic College and then made the move back to our families and our forever home in Peterborough. We have built lasting relationships in our community and grown our family with the addition of our daughter, Hannah, and our son, Ben.
We are so fortunate to love our jobs and the positive impact we make in the lives of our patients every day, but we also have a bigger vision for our community. Over the years, we have seen patients fall through the cracks in our current health system because they have not had the right information and right interventions from the right professional. We all have unique expertise, but no ONE professional has all the answers.
Through Thrive Health Ptbo, we have been able to develop a cohesive, professional team who works together to help our patients recover from pain and injury, and optimize their overall health and performance. We have brought together expert health professionals who are passionate about improving health, naturally.
Through our own family, we know how important it is to encourage healthy habits early. This is why we love treating kids, because hopefully we can positively influence the way they grow into adulthood.
We know this for certain: when people take care of their health and feel good every day, they make better choices, are better role models, have more patience, are more considerate, and more productive.
We believe that this is how we can make a positive change in our community and the future of our world.
We hope that you find our space fun, friendly, warm and most importantly, empowering. We are excited to work with you and help you Thrive in your life.
Yours in health,
Dr. Brad Wild  & Dr. Sarah Wild